SCHEER PA 4500
The advanced compact class
Scheer has expanded its panel saw range by an innovative type in the compact class. Components of the highest technical standard that are required in the machine area of panel cutting were transferred to the new PA series 4500.
The PA 4500 series is based on the sophisticated platform strategy of larger, proven models, the PA 5000 and PA 6000/7000. The developers at Scheer have deliberately not slimmed down the construction, but transferred many modules and components of the high-tech industrial saws to the new compact class.
Set up in modules, the PA 4500 is well prepared for all cutting tasks. Whether high performance or particularly difficult panel materials, the PA 4500 is the perfect saw for small and medium sized enterprises, who value the highest quality of machine and panel cutting.
This is due to
- The heavy machine base bed design
- A saw carriage guided on both sides made of cast steel
- The linear guides
- A dynamic servo motor and rack and pinion drive
In order to achieve best performance, we increased the operating parameter of the material pusher to a maximum for an optimised saw cycle.
​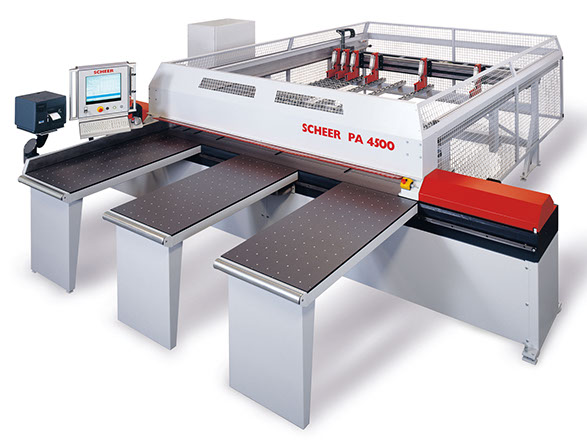 In addition to the mechanical components, handling plays a large part in conjunction with control technology and is decisive for a perfect machine concept.
Basis of the control and drive concept is an integrated PC with Simatic WinAC SPS. It controls the Siemens Master Drive units precisely and reliably via a Profibus-system. It enables, thanks to optimum control dynamics, an improvement of the cutting quality and also the highest positioning accuracy of the material slide. Absolute encoders save referencing the saw carriage and material slide axis and thus contribute to increased machine availability and thus productivity.
The control concept offers a solution that dispenses with external interfaces between the individual components. This enables faster data transfer as well as best operational reliability and availability of the panel saw.
The development of the operating software "ScheerWin" with its visual upgrade for the processing sequence, as well as advanced functions in automatic mode bring substantial alleviation and more flexibility.